Terran Trade Authority Books
When I was younger, and first showing a quite keen interest in science fiction, my family bought a book for me. It was Spacecraft 2000-2100 AD and I am not entirely sure they realised quite what it was they gave me. It was a book that postulated a possible future and used various pieces of space art as illustrations. As such it was bright, colourful and quite caught my imagination.

It was one of four such books and I count these books as being a primary influence on my imagination and dreams. The four books are :-

Additionally repackaging of two of the books resulted in an extra version :-

I have a brief precie of each book and further down the page there are some answers to commonly asked questions about these books. A section of 'sightings' where people have seen references to or images that bear a striking resemblence to material featured in the books. Finally a news section when material featured in the books or the books themselves manage a mention in the news.
---
Spacecraft 2000-2100 AD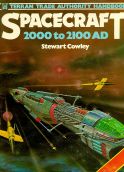 Publisher: Hamlyn Publishing Group Ltd (1978)
ISBN: 0 600 384 39X
Publisher: Hamlyn/Chartwell Books (1978)
ISBN: 0 890 092 117
This was the first of the TTA books, a concept book & an attempt to take various pieces of space art and hang a coherent history around them. For such a begining the book works remarkably well.
Essentially this book covers the initial leap into space and the first alien contact, then interstellar war. Consisting of a picture paired with a ship specification listing and history the book works it's way through the various military, civilian and unknown craft featured in the time period given.
The pictures really are glorious but what makes it all work is the history holding them together. With each specification given you learn a little more of the time and circumstances that caused the ship to be built, then through that you learn more about the world behind it all.
As a showcase of artistry the book shines and as the first concept book of it's kind it was succesful enough to spawn three sequels and a host of imitators. But for me this book remains the best of the lot with a pleasing mix of stunning images and story.
---
Great Space Battles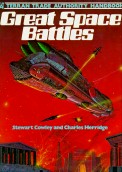 Publisher: Hamlyn Publishing Group Ltd (1979)
ISBN: 0 600 383 687
The next in the series of the TTA books (Terran Trade Authority) this was fairly hard to find. It changed style away from a specification listing to that of trying to tell full stories. Unfortunately the style of art changes so much between images that the effect is less than convincing.
Still the story itself is reasonably engaging and gives a feel for tactical combat and the kinds of decisions it entails. Where it ultimately fails is in the choice of art. Alot of it is fairly lacklustre material, bar a few stand out images by Peter Elson. I remember I fought long and hard to find this book and was vaguely disappointed when I did finally get it.
---
SpaceWreck: Ghostships and Derelicts of Space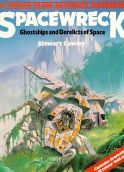 Publisher: Hamlyn Publishing Group Ltd (1979)
ISBN: 0 600 329 909
Here we had a considerable improvement over 'Great Space Battles'. The stories were shorter and more tightly linked to one image rather than trying to link to several. Although one or two stories did feature linked images they tended to be images done by the same artist and as such worked together far more coheisively.
Also the choice of subject matter was a smart move. There is something wonderfully intrieguing about a wreck. How did it get there? Could the disaster have been avoided? The tragedy and futility can be captured exceedingly well by the combination of image and story.
As such this book worked well. The quality of the art work was good and the wide choice of subject material meant a diverse variety of stories could be told.
---
Starliners: Commercial Travel in 2200 AD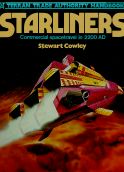 Publisher: Hamlyn Publishing Group Ltd (1980)
ISBN: 0 600 353 575
The last in the series, that I know of anyhow, this one is where he reached highest. The quality of the artwork is uniformly good and, due to the subject material, a strong glimpse into the lifestyle of the twenty second century is given.
I know I had my reservations about the book when I saw the title. But this book shines through as a quality effort all the way. Second only to 'Spacecraft 2000-2100 AD' it tells a story and tells it well. Keeping a travel guide tone through the book he touches on the history of each company, why it was formed and the background events that enabled it to flourish.
---
Spacebase 2000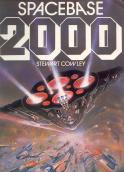 Publisher: Hamlyn Publishg Group Ltd (1984)
ISBN: 0 600 385 469
Publisher:St Martin's (1985)
ISBN: 0 312 749 406
This book is essentially a reprint of the material in 'Spacecraft 2000-2100 AD' and 'Great Space Battles'. Tt had a strong release in the US but I have heard of people all over Europe buying and owning copies. It even made it to Australia and I had thought for a long time that it had not made it to New Zealand. Thanks to an email from Conrad Schumacher I now know that some copies did indeed make it out here. No new material was added so people with the other two books need not seek it out unless they are completionists.
---
Commonly Asked Questions
Do Hamlyn Publishing Group still exist?

Yes, there is a website out there for Hamlyn Publishing Group (www.hamlyn.co.uk) The site indicates that they are focused on non-fiction titles these days so the chance of seeing a reprint or further books in the series from them seems slim.



Where did you get the books from then?

Second hand bookstores. Seemingly, from the reports of the owners of these stores, New Zealand was used a dumping ground for unsold stock of these books. Thus my ability to pick these books up at all.



Can I buy a copy of the books?

Yes, several places seem able to help with finding copies of these books. A few readers have had luck looking through library clearances where copies of the books have been dumped. One reader informs me that Amazon have managed to track down a copy of one of the books for him. Another reader has managed to find both 'Spacecraft 2000-2100 AD' and 'Great Space Battles' through Advanced Book Exchange. Yet another reader has had success with Barnes and Noble in tracking down all four books. It has been mentioned that a quick search through ebay is worthwhile as the books do appear on their for auction from time to time. I was contacted directly by the staff of Campus Books. Nominally they are a textbook service but they index across Amazon, Barnes & Noble, eCampus and others. Trying a few TTA related searches showed correct listings and even managed to turn up a copy or two of 'Starliners' which seems to be the hardest book to find. All of these places are worth a try.

Also, through combing of the secondhand book stores, I have managed to obtain a few extra copies of these books that I can offer to readers on a first come, first served basis. As of the 27/5/2009 I have :-



One paperback copy of 'Spacecraft 2000-2100 AD'.

If you want to get these then read this page thoroughly then email me for details but I am selling them on a pretty much cost recovery only basis. Also please remember I do this in my very limited spare time - I don't have time to answer questions already answered on this page, asking such questions tends to get me grumpy. The basic costs are NZ$20 for the book with NZ$20 per book for postage. (Second class airmail with a delivery time of about three weeks to anywhere in the world - I can reduce the price if you are prepared to wait the longer amount of time that surface mail takes, about three months). Because I don't have the facilities to accept credit card payment then either a bank draft (preferred) or sufficient foreign currency to match the NZ price is accepted.

I work firmly on money up front for the books, an unfortunate result of dealings in the past. Also I realise the prices are steep - but I consider what I am offering to be the point of last call and I do recommend that you try the other places I have listed first. They will most likely be able to offer these books at a substantially cheaper price than me. My pricing is forced by the fact that I am in a geographically remote location (which ups the postage) and that I am buying the books from a second hand dealer at sales price. Most second hand dealers can obtain these books much more cheaply than I - being able to buy then at closer to cost/bulk pricing.

Thus far I have supplied two copies of 'Spacewreck', two copies of 'Great Space Battles' and three of 'Spacecraft 2000-2100 AD' to needy fans out there.

Finally please do not ask for a book that I don't list here. If I had the book, I'd list it. I've already listed all the places I can suggest to look for them so if it isn't on the list then please try those places.



Are there any other books in the series?

Not as far as I am aware.

Stewart Cowley has produced similar books set in a suspiciously similar universe but that are not labelled as being TTA handbooks. I have one such book, 'The Space Warriors' but do not know of any other books. Where this book falls down is that intruisive comic speech bubbles have been overlaid on much of the artwork and the books are clearly aimed at a younger audience than the TTA series.

Some people have told me about a 'Galactic Encounters' series of books which apparently includes the books 'Aliens in Space', 'Star Quest', 'The Fantastic Planet', 'Worlds at War', 'Dangerous Frontiers' and 'Space Patrol' - thinking that these were related to the TTA Books. These aren't strongly related to the TTA works but do have some overlap. Apparently a Henri deVass is listed as the FTL drive inventor, first contact is with aliens from Proxima and Alpha Centauri and the Intersteller Queen makes an labelled appearance in at least one of the books. They are the work of a Steven Caldwell - which turns out to be a nom-de-plume of Stewart Cowely and the artwork is mostly material rejected from use in the TTA series. I have been told that they were bound in a less rigorous fashion than the TTA books. Consequently they tend to be in poor condition with the pages falling out but occasionally pristine condition copies can be found.

I also have been told about, and have seen in second hand book stores here, a book titled 'Galactic Tours, Thomas Cook' which is a travelogue style book detailing twenty three holiday destinations on alien worlds. Naturally with accompanying artwork. Aparently the book even has pricing and an application form to fill out. I must admit I have never been quite motivated to grab the book but for those interested the details are :-

Title: Galactic Tours, Thomas Cook
Images by David Hardy/Text by Bob Shaw
Publisher: Proteus Publishing Company
ISBN: 0 86276 005 4

The Bob Shaw referenced is the one and same science fiction author who penned 'Orbitville', 'The Ceres Solution' and others... (Thanks to Don(USA) for this.)

Another title suggested as being worth seeking out is 'Space Wars, Worlds and Weapons' by Stephen Eisler with a forward from Chris Foss - the artist featured in all of the TTA Books. It has been apparently printed originally by Octopus Books Ltd, London, England in 1979 and a second pressing has been done by Crescent Books of New York, USA. I am told it combines stories of future history and adventures interspersed with discussions of various novels and the writer's take on science fiction. (Thanks go to Chris for this one.)

Yet another title out there is 'Flight of the Icarus'. This is more an artist recognition book showing works from various space artists and some details about them. As such it shares a lot of artwork with the TTA books but frequently the versions featured in this book are less cropped than those used in the TTA series. Details are :-

Title: Flight of the Icarus
Publisher: Paper Tiger, imprint of Dragon's World Ltd. (1977,1989,1992,1995)
ISBN: 0 90589 516 9

Artists featured include Jim Burns, Angus McKie, Tony Roberts, Peter Elson & Colin Hay.

Finally there do seem to be a few variants of the books translated into other languages. Stewart himself informs me that the first book at least got translated into eight languages, if not the entire series.

French versions have been sighted, thanks go to Jean Vouillon, Yvan Assioma and others for providing scans of the covers and information about the French books.





German versions exist, Bernd Glubisch sent me this advertisment from the back of one of the german releases :-



Thanks to Gunther Hasse I now know the titles and covers of, what looks like the initial German releases, are :-




What is most interesting about this is that not only did they split each of the four books in two to make eight volumes but they also changed the release order. Books 1 & 2 constitute "Great Space Battles", 3 & 4 are "Spacecraft 2000-2100 AD", 5 & 6 are "Spacewrecks" and 7 & 8 were "Starliners". To add to the confusion they then proceeded to release full versions of the books as well as these half releases - which Gunther tells me were done on a three monthly release schedule and tantilisingly include a reference to a future volume 9. Also worth noting is that the cover image for volume 8 is an image unique to the German release as it certainly isn't featured in the English books. Because these books are so wildly different from the regular releases I have put Gunther's fairly high resolution scans of the covers up. Gunther was also able to give me the cover scan of "Im Weltall" as well as the wealth of information he sent in. Deeply appreciated Gunther!



"Im Weltall - Die Raumschiffe der Jahre 2000-2100 - Das Galaxie-Handbuch der terranischen Handels und Kriegsbeherden" (Spacecraft 2000-2100 AD)

"Die Sternenkämpfer der Raum-patouille No.8 - Handelskrieg der Terraner" (Spacewreck)



Thanks to the efforts of Raul Oliver Cortes we now have two Spanish cover art images for the series :-



Spotted by Daniel Olofsson and Johan Vikberg Swedish versions of the books are out there. Also a kinda reader sent in a cover image of the Spacecraft 2000-2100 AD book and unfortunately I have mislaid their name and cannot give them the credit they deserve for this kindness. My apologies to that reader but here is the cover image :-

Rymdfarkoster 2000 till 2100 - (Spacecraft 2000-2100 AD)

De stora Rymdkrigen - (Great Space Battles)



In Japanese, as submitted by Osamu Izutari, the books look like this :-



Osamu further tells me that the translation of the book titles is very direct and matches very well the English titles of the books.

In Italian, submitted by Italian TTA fan Alessandro De Zuani, the listing looks like this :-



"Navi Spaziali dal 2000 al 2100" (Spacecraft 2000-2100 AD)
"Grandi Guerre Spaziali" (Great Space Battles)
"Catastrofi Spaziali" (Spacewreck)



Joao Paulo C P Santos sent in word that a Brazillian (Portuguese language) version exists, published by Ao Livro Tecnico S/A. I know this as Paolo F. Pugno kindly sent in the cover image of the Brazilian release of this book. The only title being :-



Nico Wals and Daniel Vrielink both sent in a wealth of information about the Dutch release of the first book :-



All eight languages are now listed here. Although there are gaps in the cover images of the books. If anyone has scans of the missing covers I'd appreciate hearing from them to round out the image collection. Thanks again to all those who contributed thus far, I certainly couldn't have put this entry together without your help.



Have the images been used elsewhere?

Sure have. In fact most, if not all, the images were created as book covers for various science fiction novels and not explicitly for the TTA Books. So thanks to some hard work on the part of a reader out there I now have a list of various novels that have featured these images on their covers.

Also the image of the Star Queen starliner has turned up gracing the cover of a Vangelis album 'Hypothesis' as well as the backglass artwork of a pinball game called 'Stellar Airship'. So the images have found their way all over the place.



Is Stewart Coweley still out there?

Yep, and he is still producing books - mostly he seems to be specialising in children's books these days like "Waggly Dog goes Wag-Wag". In fact a while back I was fortunate enough to get emails directly from the man himself. With his permission I've taken those emails and turned them into an interview about the TTA Books.

Also when looking for books one has to be careful as there is another Stewart Cowley out there, also producing childrens books. Indeed this second Stewart created something of a surpise for me when he emailed me out of the blue about his work. The second Stewart was kind enough to give me a list of his work so that people searching for the other Stewart can tell the two apart. The list is :-

"I hate my glasses"
"If Phoebe stands on the table"
"There's a Spider in the Curtain"
"The Balloon Doggy"

He currently, as an experiment, is selling "Is Georgia...a Hamster?!!" through the net - thus the link given above.
---
Sightings
This list is dedicated to those images and references that look like they could have come straight out of the series of books, if indeed they haven't been inspired by the books themselves.
'The Fifth Element', whole chunks of this film remind me of pieces of 'Spacecraft 2000-2100 AD'. The Phlogiston Paradise liner strongly reminds me of some of Angus McKie's and Jim Burns' work. In particular the Interstellar Queen and the Nomad Industrial Complex.

This is not to say the film is drawn from the books, more that it has the feel of the books when you watch it. Kristoffer Åberg wrote in to tell me that 'The Fifth Element' is sourced primarily from French artists including Jean Giraud (aka Moebius) and Mezieres.



'Babylon 5 : Thirdspace', the initial alien fighters coming through the gateway are strongly reminiscent of Alphan Minnow fighters in styling.


Various readers have commented on the similarity between the Proximan Military command, shown behind the Shark Interceptor, and the Star Wars Death Star. Given that the image used in 'Spacecraft 2000-2100 AD' was for a Perry Rhodan book published in 1977 and that Star Wars, I believe, came out that year as well then it looks remarkably like a case of convergent development.


A little birdie has informed me that the art team for the 3d Strategy Game 'Homeworld' used the TTABooks as a source of inspiration for the design of the various craft in the game. Have a look and judge for yourself :-


Certainly the designs do remind me of some of Chris Foss and particularly Peter Elson's work, which isn't surprising given that they are credited in the manual for the game. This game is excellent for recreating some of the battles listed in 'Spacecraft 2000-2100 A.D.', it has the feel of starship combat ala the TTA Books down just right. (Thanks go to Geoffrey Jost for this one.)

If you wish to examine the designs then visit http://www.well-of-souls.com/homeworld/hws/index.html. This site features every ships class featured in the game along with pictures from the game.



And Gregor, a regular contributor of information for this page, has been busy building 3D computer models of some of the craft featured in the books - including a new Avery Frost Orion Mark 2, Partisan and a Minnow as well as more information on the Galatic Encounters series of books. Why not drop by his web page and have a look?


Another computer game that looks intrieguing is EVE, a massively multiplayer online game with ship designs reminiscint of chunks of 'Spacecraft 2000-2100 AD'. For those interested the URL is www.eve-online.com.


Jean Vouillon, a regular contributor to these pages, has set up a site that has a lot of imagery that looks like material from the books. The images are frequently quite stunning and well worth checking out.


Adrian Mann has a set of pages dedicated to the TTA handbooks. This includes some downloadable ship models for use with Terminal Velocity.


For those interested in TTA material and digital art related to space in general Steve Attwood has an extensive set of pages covering both the TTA books and other material. Well worth a browse around.


Keith wrote in to let me know that in 1982 it seems the TTA Books had enough impact that artwork from them was being reused in advertising. Here is an advertisement placed in several contempary magazines of the day. Fans will immediately recognise it as the Avery Frost Orion.
Andy Steinberg wrote in to point out that the animated film 'Heavy Metal' features the 'Unknown Alien #4' as a piece of space debris. Reference spotters wishing to find this oblique reference need to go to the piloting sequence of the film after the 'plutonium niborg' has been consumed. Quite a few famous wrecks feature in there including an NCC 170-1. Can't think what they might be referring to there...


Brandon Bannerman sent in these two links of TTA craft done in lego bricks. I've been amazed at what the lego devotees have done with the bricks in their spare time including decent models of ships like FireFly's 'Serenity' so it is very nice to see some TTA representation in the brick world. Here are the links :-
Christian Franzone emailed in from Italy to let me know that a very old reprint of 'I Grandi classici' (Mickey Mouse's Classic Stories) has Super Goofy fighting alien invaders while in the background the Proximan 'Shark' space interceptor can be seen. One wonders how many other TTA ships escaped into the comic world...
If you have seen film, TV or other images that look like references to these books please feel free to email them in for listing here. At the very least it gives people a list of stylisticly similar science fiction to look at that they may not have tried before...
News
Not often, but every once in a while a tidbit of news crops up about the books and the images in the books.
There has been a bit of a stink over a painting. I've provided the news paper clippings about the matter below. It merits a mention here because the image copied was used as 'Object #4 Proxima Centauri' in 'Spacecraft 2000-2100 AD'. Naturally anyone who likes these books immediately spotted the uncanny resemblence this new painting has to the older work. I got quite a few emails about this.

It even rated a mention in 'The Evening Post' another local paper, although I was unable to obtain a copy of that article. Personally I think Glenn Brown owes at least an apology to Anthony Roberts as the new image is obviously at least strongly inspired off the older work. This isn't to say that Glenn hasn't done any work either as there are noticable differences between the two. The decent thing to do would be to share some of the prize money and to publicly credit his source of inspiration but I wonder what the chances of that happening are?



Thursday 2nd March 2006
I've been aware for a few months of an effort by Morrigan publishing to revive the TTA series. It seems they purchased the rights to the books off Hamlyn and have been since beavering away on producing a modern re-release of 'Spacecraft 2000-2100 AD' coupled with a roleplaying game rulebook set in the same universe. Thanks to the rights for the artwork long since having reverted to the original artists none of the original artwork will feature in the modern reprint, instead there will be computer generated recreations of them as well as new artwork commissioned specificly for the re-release and rulebook.

I am in two minds about this. While I am interested to see more TTA material being produced I can't but help feel it is going to be a mistake. A large part of what makes the books work is the very large gaps in the backstory that simply aren't explained - like what the Alphans and Proximans look like, the practical limitations of the DeVass Hyperspace generator or the Berger gravity resist systems are. This left a lot of room for your imagination and the evocative artwork to combine and tell your own stories about life in the TTA universe. I can't help but wonder if the extra detail an RPG needs to work won't destroy some of the magic of the series. Other tinkering includes a reworking of the timeline to render it forward looking again, which means 'Spacecraft 2000-2100 AD' is most likely shifting to the 22nd century at the very least.

An overly cynical interpretation is that this is simply an attempt by Morrigan to tap into the fond sentiment these books are held in to sell product, namely their roleplaying game and the already being talked about supplemental expansion books that will follow on. Mitigating that thought is the reality that the books originally were a purely commercial product designed to let the publisher get more use out of artwork commissioned, yet we got something special all the same. The Morrigan people do seem enthusiastic so hopefully they will preserve the sense of wonder and the unknown that lies at the core of TTA books.



Friday 9th June 2006
Morrigan Press sent me a press release announcing recently two things. Firstly they now have Stewart Cowely involved with their updating and re-release of the TTA books. The second part is that this came about thanks to a slight copyright snafu over the books. It seems Hamlyn erroniously asserted they had ownership when in fact that had reverted to Stewart around 1990 or so. This meant the agreement Morrigan had made with Hamlyn was null and void and potentially could have spelled the end of the project entirely. Fortunately it seems Stewart was very amenable to it going ahead and a new agreement has been brokered permitting the books to go ahead. Part of that deal is Stewart's involvement, although to what degree is hard to discern from the press release.

Given that this all blew up in Morrigan Press' face a scant week after printing began on the books this had to have been a stressful few weeks for them.



Saturday 9th September 2006
Jeff Lilly from Morrigan Press was in touch again reporting that apparently, due to under ordering by major retail stockists, the new issue of the TTA Books has been log jammed a bit. It seems pre-orders have been high and the stock held has gone out pretty quickly. Fresh stock is on the way to fix this and they also are announcing work on a new TTA artbook called 'Capital Ships'. This is, like the original TTA series, completely an artwork book and not a new sourcebook for the RPG. It aims to concentrate on the often mentioned but not actually seen capital ships involved in the Proxima War. Jeff indicates that, based on sales, Morrigan intend to do a series of artbooks as well as the straight RPG material - so we get fresh TTA material.


Sunday 1st of October 2006
Thanks to a very kind donation by Morrigan Press I am now the owner of a copy of the first of the re-issued TTA handbooks. Consequently I've created a new webpage for the re-issue and all news relating to the new series will be featured there in the future.


Monday 11th of December 2006
Luca Oleastri got in touch to send me the URL of the Peter Elson tribute site they have put online. It features a brief but very interesting biography and cover art from quite a few of the books he produced art for. Quite a few images will be familiar to readers of the TTA series but there are many that won't be. It is well worth a visit for any reader of this page.


Wednesday 4th of April 2007
Cinemetre got in touch via email to let me know that, of all places, a reference to the TTA books featured in the April 07 issue of Car and Driver (pg 126). For those of use who don't, or in my case probably can't, get that magazine Cinemetre was kind enough to scan the article in. So here is the article itself :-


It is a nice piece of whimsy and yet another good example of just how widely known and read the TTA series is.


Thursday 14th of January 2010
The sister of the late Peter Elson got in touch with me via email to let me know that a tribute site to her brother has now been set up. www.peterelson.co.uk contains close to three hundred of his original artworks with prints available for purchase. Well worth a rummage around to see the breadth of work Peter engaged in. Quite few are images that are either rare or haven't been used commercially and a lot have been featured in the TTA books. It is a lovely tribute site to Peter and his artwork.
---
Philip R. Banks
Send Email